Brunel Bridge News
This is a timeline of news items. To save space,  we show selective quotations;  see the original source for the complete article quoted.
2 March – Open Letter to the Mayor
We* have sent an open letter to the Mayor, copying in a number of other key figures, summarised as follows:
"We strongly urge TfL to include the existing bridge design by reForm/Elliott Wood in an independent assessment exercise, alongside alternative designs developed by TfL's chosen team. This will be to demonstrate that best design and value have been achieved for this important project."
Signatories:
Neil Coyle – Labour MP for Bermondsey & Old Southwark
Jim Fitzpatrick – Labour MP for Poplar & Limehouse
Caroline Pidgeon MBE – Liberal Democrat London Assembly Member & Deputy Chair of Transport Committee
Sir Simon Hughes – President of the London Region Liberal Democrats
Caroline Russell – Green Party London Assembly Member & Transport Spokesperson for the Green Group
Damian O'Brien – Liberal Democrat Councillor for Grange Ward, SE1
Sian Berry –Green Party London Assembly Member
Mike Davies CBE – Founding partner Richard Rogers and Partners and Rogers Stirk Harbour and Partners
Will Hurst – Managing Editor, The Architects' Journal
Paul Finch OBE – Editorial Director, The Architectural Review
Walter Menteth – Project Compass (Independent procurement guidance)
Kay Hughes – Khaa (Independent procurement specialists)
Norman Taylor – Avocet (Independent construction procurement advisors)
Dr Richard Shuttlewood – Brunel Bridge (Independent local campaign group)
Ms Vera Jajechnyk (Head of School – St John's Catholic School Rotherhithe)
Barry Duckett – Chair of Rotherhithe Festival & Rotherhithe Area Housing Forum
Cc
Val Shawcross – Deputy Mayor of London for Transport
Mike Brown – Commissioner of Transport for London
*This was a joint effort with other organisations so we use "we" in the loosest sense
28 February – Letter from Caroline Pidgeon AM
In a significant intervention regarding the status of the ReForm/Elliott-Wood bridge,  Carolyne Pidgeon has written a letter to a legal officer at TfL
Main Points:
Supporting an open procurement process – which we don't currently have
Concern that the ReForm/Elliott-Wood bridge has been excluded
Concern about the process
Challenging assumptions/assertions in the Arcadis report
Calling for the Arcadis report to be published in the interests of transparency
Read the full text of the letter here
Editors comment
We completely support this excellent letter from Caroline Pidgeon,  whose tireless work is an inspiration to us all,  and a model for less diligent politicians.
We consider it completely unacceptable that the Arcadis report,  which had been paid for with our money, and relates to a public matter,  should be shrouded in secrecy.  In the interests of transparency this must be puplished.
19 February – We meet with TfL for discussions
Topics included:
Bridge type
Location/alignment
The status of the ReForm/Elliott-Wood bridge
Processes and scheduling
We are waiting for approval from TfL before we issue a release
February 2018 – Rumours Circulating
We are hearing rumours that consultants working for TfL are recommending against a bascule bridge (ie a bridge which pivots up,  balanced by a counterweight of some sort).  The ReForm/Elliott Wood design which recently attracted 93% support in our poll WOULD THEREFORE BE EXCLUDED.  We would strongly question why this very popular design should be excluded in favour of a lift or swing bridge at this early stage.
If these rumours are true,  then TfLs current preclusion of the reForm / ElliottWood design, and their abject refusal to evaluate it, is as indefensible an example of negative discrimination as the Garden Bridge was an example of positive discrimination and we urge TfL to reconsider.
The different bridge types are discussed here: http://brunelbridge.london/engineering-options/
8 January 2018 – Consultation Response from Caroline Pidgeon
Caroline Pidgeon's full response is available here: Rotherhithe Bridge consultation
Key Points:
Strongly supportive.  Caroline is a long time supporter of the bridge, as are the Liberal Democrats locally (Simon Hughes was involved at an early stage)
Consolidates the justification for the bridge
Supports 24hr access
Supports segregation between cyclists and pedestrians
Preference for the Northern crossing (Nelsons Dock)
Must be of high architectural standard and pleasing to the eye
Overall solution should include CS4 superhighway and the introduction of the cycle hire scheme to Rotherhithe and Bermondsey
This is all very much in accord with our views and we are grateful for Caroline's enthusiastic support
Source:  email to The Editor
9 November 2017 – Evening Standard
Plans unveiled for new river crossing between Rotherhithe and Canary Wharf to reduce Jubilee line crowding
https://www.standard.co.uk/news/transport/plans-unveiled-for-new-thames-river-crossing-between-rotherhithe-and-canary-wharf-to-reduce-jubilee-a3685791.html
9 November 2017 – TfL announces next steps,  public consultations
See here for more information:
https://consultations.tfl.gov.uk/rivercrossings/rotherhithe-canarywharf/?cid=r2cw-crossing
30 October 2017 – brunelbridge.london team meets TfL
Wide ranging discussing were held,  looking at the next steps and new ideas.  Agreed to hold off puplication until TfL publicity on consultations is released
Aug 2017 Press Release from TfL
Alex Williams, Director of City Planning at Transport for London (TfL), said: "We are currently exploring a number of options for a new crossing between Rotherhithe and Canary Wharf, which will provide a much-needed walking and cycling connection between the two areas. We expect to undertake the competitive procurement process for a design and build partner in the autumn."
Additional Information
TfL has established a project team to take forward the crossing and over the past year, work has progressed at pace on developing options, surveys, demand modelling, procurement, business case development, funding, planning consents, land requirements and engagement with stakeholders.
TfL recently appointed Arcadis, following a full procurement process, to develop designs and support the project team at this stage. Arcadis are a renowned engineering and design consultancy with international experience in delivering pedestrian and cycle crossings and are working with Knight Architects and other specialist suppliers to ensure the development of a cost-effective scheme.
TfL will appoint a design and build partner to support subsequent stages. This procurement process is expected to commence in the autumn and will be open to all suitable suppliers, including ReForm.
Source:  Email to the Editor
15 August 2017 – Rotherhithe Bridge added to A-Z mapping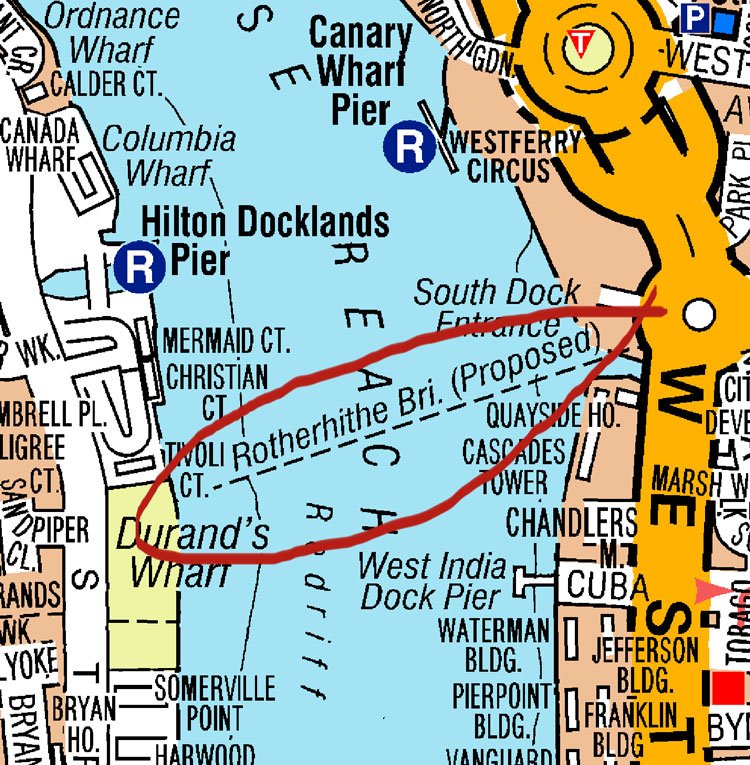 Source:  @AZdigitalmaps on twitter
11 Aug 2017 – Mayors Question Time
"Welcome news that Rotherhithe to Canary Wharf bridge is on track"
Assurances that the much needed pedestrian and cycle bridge between Rotherhithe to Canary Wharf is on schedule and could be open to the public by 2020 or 2021 were obtained by Liberal Democrat London Assembly Member Caroline Pidgeon, at August's Mayor's Question Time.
The Mayor also confirmed that he expects major landowners in the nearby area, who will benefit from the bridge, to contribute to the project, alongside funding from TfL.
Following today's Mayor's Question Time at City Hall Caroline Pidgeon said:
"The case for the Rotherhithe to Canary Wharf pedestrian and cycle bridge is stronger than ever. It will play a key role in supporting the new housing and employment that is growing on both sides of the Thames, as well as helping to reduce pressure on the Jubilee Line, especially at Canada Water.

"In the past London has seen too many infrastructure projects held up. This is one project that really must be delivered on time."
14 March 2017 MIPIM – Cannes
This view of the 3D London model shows the bridge  proposed by reForm/Elliott Wood (www.rotherhithebridge.london)
3 March 2017 TfL Press Office
Alex Williams, Acting Managing Director of Planning at TfL, said:
"The tendering for a design and build contract for the bridge will begin later this year as planned. The Mayor is fully committed to delivering a new pedestrian and cycling crossing between Rotherhithe and Canary Wharf and following successful market engagement last year with around 50 companies from across the world, we are now working towards the next phase of the procurement process."
Source:  email to the Editor
3 Feb 2017 The Wharf
Caroline Pidgeon comments on overcrowding on the Jubilee Line and at Canada Water in The Wharf Newspaper:
"Overall the number of delays caused by overcrowding has tripled between 2012 and 2016, according to figures obtained by London Assembly transport committee chair Caroline Pidgeon."
"She particularly highlighted the interchange between the London Overground and the Jubilee line at Canada Water as a vulnerable spot, which further strengthens the case for the Canary Wharf to Rotherhithe cycle bridge, to which the Mayor of London Sadiq Khan is committed"
Source:
http://www.wharf.co.uk/news/local-news/alarming-overcrowding-jubilee-line-12550296
19 October 2016 Mayors Question Time – 2016/3795
Question from Keith Prince AM: How much will it cost to build the Rotherhithe to Canary Wharf Bridge?
Written response from the Mayor:
Work to assess the feasibility of the bridge is at an early stage and the cost is very much dependent on the design of the bridge, which this work will inform. In addition, to help determine the costs, market engagement will start in the next few weeks. This will be followed by a competitive procurement for the design, which will start by the end of
the year. Implementation costs will be provided as part of this work.
19 October 2016 Mayors Question Time – 2016/3796
Question from Keith PrinceAM: How will the Rotherhithe to Canary Wharf Bridge be funded?
Written response from the Mayor:
I have asked TfL to investigate a number of funding options over the coming months. Potential options include TfL funding, commercial partnerships, business and individual contributions, advertising and sponsorship as well as developer funding.
4 October 2016 – Caroline Pidgeon: Pedestrian and cycle bridge linking Rotherhithe to Canary Wharf is London's most needed river crossing
Caroline Pidgeon, Liberal Democrat London Assembly transport spokesperson, commenting on the Mayor's announcement today about proposed East London river crossings said:
"Having long supported and campaigned for the Rotherhithe to Canary Wharf pedestrian and cycle bridge I am delighted that the Mayor is now committed to accelerating this project."

"This is London's most needed river crossing.  It will enable thousands of people to cross the Thames by bike or foot in a part of London where it practically impossible to do so at present."

"I cannot think of any other proposed river crossing that will deliver such huge benefits for so little public money.  The bridge will also play a critical role in reducing pressure on the overcrowded Jubilee Line, especially between Surrey Docks and Canary Wharf."
4 October 2016 – Mayor says the bridge will be going ahead. To be delivered by 2020
"…. The Mayor has also asked for the acceleration of the new pedestrian and cycling bridge linking Rotherhithe and Canary Wharf – a key manifesto commitment. The new bridge will make it easier for people south of the river to link to Cycle Superhighway 3 – the East-West Cycle Superhighway – as well as provide people north of the river better access to the Thames Path and planned cycle routes throughout Southwark.

Due to the range of river traffic at this location, the bridge would need to open for shipping, and TfL has carried out analysis on whether a bascule or swing style bridge could be more suitable. A competitive procurement process will be held next year and subject to funding, availability of land and relevant approvals, the new bridge could be open by as soon as 2020."
Press Release:
https://www.london.gov.uk/press-releases/mayoral/mayor-commits-to-east-london-crossings
20 September 2016 – 5 London MPs back the bridge (Evening Standard)
Go ahead with the Rotherhithe bridge
WE APPLAUD the Mayor's backing for the proposed cycling and pedestrian bridge between Rotherhithe and Canary Wharf. In his manifesto, Sadiq Khan pledged to "break down some of the city's physical barriers" with the bridge — now we want to see what progress has been made in moving forward with its construction. There are 32 bridges across the Thames in London to the west of Tower Bridge but only one to the

east. This proposal will bridge the gap between our constituents north and south of the river, enabling thousands of trips a day while also easing overcrcrowding on the Jubilee line. We believe the proposed bridge could be buildable by 2020 but we must make progress now. London Labour MPs Heidi Alexander, Neil Coyle, Jim Fitzpatrick, Vicky Foxcroft and Matthew Pennycook
18 September 2016 – Local MP Neil Coyle on BBC Sunday Politics
I am working with Sadiq on the Rotherhihe Bridge and other infrastructure development within the constituency
13 September 2016 – Further support from Sadiq Khan
Caroline Pidgeon AM,  who is a strong and very active supporter of the bridge,  received this message from the Mayor:
As set out in my manifesto, I am committed to taking this scheme forward. Transport for London is currently reviewing the work previously undertaken by Sustrans on the levels of demand, technical feasibility and funding options for delivering a pedestrian and cycling bridge between Rotherhithe and Canary Wharf. This work is important to ensure that the scheme which progresses delivers value for money and also satisfies the relevant planning processes. TfL is working closely with the Port of London Authority to assess the effect of fixed infrastructure in this location on shipping.

I have asked TfL for the outcome of their work in the autumn to enable an early decision to be made on the next steps. Any procurement of design will be undertaken in a completely transparent way with full engagement with the market.
21 July 2016 – New London Architecture Peoples' Choice Award
A well deserved win for the ReForm/Elliot Wood design (www.rotherhithebridge.london):
"The Peoples Choice winner celebrates the will of two communities to have a link across the river. Receiving an overwhelming number of votes from those two neigbourhoods and those further afield, the new bridge would become one of the first bridges east of Tower Bridge. The scheme was praised by voters for its green credentials and innovation, with 'references to London's heritage as a 21st century Tower Bridge' whilst being 'highly functional; enhancing communications and facilitating work and community links'"
20 July 2016 – We meet Caroline Pidgeon AM
Members of the community discussed the proposed bridge with Caroline Pidgeon, Chair of the London Assembly Transport Committee.  We are very pleased to have Caroline's support.
22 June 2016 – Bermondsey and Rotherhithe Community Council
Councillors commented that the proposed new bridge, connecting Rotherhithe and Canary Wharf, had cross party support and that it was a better use of public money than the garden bridge proposed for elsewhere in London. Councillors asked that this view be made clear to the new Mayor of London.
17 June 2016 – Article in CITYA.M.
"Cyclists need a new Thames bridge to Canary Wharf – and you can help fund it"
This article bt Matt Winfield, London Director of Sustrans,  promotes the benefits of the bridge and raises the topic of whether the City should help with funding
http://www.cityam.com/243494/cyclists-need-new-thames-bridge-canary-wharf-and-you-can
13 June 2016 – Sadiq Khan Interview with the Metro newspaper
"Were there any ideas during the [Mayoral electon] campaign which you thought you could adopt?"
London Mayor:  "Liberal Democrat mayoral candidate Caroline Pidgeon had this idea of a cycle bridge around Rotherhithe and Canary Wharf which I think is cracking so I am running with that"
25 May 2016 – Mayor's Question Time
[Editors Note: Caroline Pidgeon has always been highly supportive of the bridge and we are very grateful to have her on side.  She asks very good questions,  consolidating the Mayor's committment and pushing for progress.  The Mayor in turn is also very supportive and we feel this exchange is a big step forward.  Although we know a lot of local residents are supportive of the ReForm/ElliottWood design,  the Mayor is clearly constrained by procurement issues]
Caroline Pidgeon MBE AM:
When will the Rotherhithe to Canary Wharf bridge be open?
Sadiq Khan (Mayor of London):
"Can I congratulate you on your reelection?  Firstly, I will say what a great project this is. It points to the future of river crossings in London.  It is a fantastic opportunity to give this part of London a much-needed new pedestrian and cycling crossing.

I made a commitment, as you are aware, in my manifesto to deliver the major infrastructure that London needs for the long term, including new river crossings for east London.  These crossings should benefit and regenerate the communities that need it the most.  They should include cycling, walking and public transport options and
help to break down the physical barriers that can alienate parts of the city.  The bridge will relieve pressure on the Jubilee line at Canada Water and will offer a huge boost for new jobs and homes, while promoting greener and safer ways of crossing the Thames on foot and by bike. I have tasked TfL with progressing this project.  That work is taking place now and in due course I will be able to set out in more detail, including a projected opening date."
Caroline Pidgeon MBE AM:
"Thank you very much and congratulations on your election as Mayor.
I am strongly committed to this bridge and I am really delighted to hear your words today and your support in writing in your manifesto and at the London Cycling Campaign hustings.  However, I really feel that to deliver this we need more than just words. You said you have asked TFL to progress this project.  In that instruction, have you asked TfL to bring forward a really clear plan on how it can build this quickly, fund it in the most cost-effective way – I think there is private sector money that can fund this – and perhaps use companies that are already approved as part of TfL's own framework to build it as quickly as possible?"
Sadiq Khan (Mayor of London):
"Chairman, there are lots of good ideas in that question.  I am not sure if I am allowed to say that.  We need to establish the right solution first and some options could be delivered more quickly than others.  The work that I have asked TfL to undertake will consider the timescales for the different options to see how quickly we can deliver the improvements. Just in case you are concerned that there is already a design out there, it is just one design.  I want to make sure that we achieve the best value through fair and transparent procurement processes.  The current bridge concept is a complex design challenge with a record-breaking span, which will result in high costs.  We need to ensure that we have the most cost-effective design and I have tasked TfL to do that work."
Caroline Pidgeon MBE AM:
"This really is pressing for me.  Unlike the Garden Bridge, it has a strong transport case.  You have mentioned the Jubilee line pressures, particularly at peak hours in the morning.  Rotherhithe's roads are highly congested.  With new developments planned in the area, we are expecting the number of people using the Jubilee line to double up to 2020, and so I really want to accelerate this project. I understand from talking to experts that using the work we have already carried out to date, the bridge could go through planning, design and build within around four years.  … Will you guarantee that in the next couple of months you will publish the information from TfL and progress this urgently?"
Sadiq Khan (Mayor of London):
"…  Just so that we are clear, I am going to learn the lessons of procurement failures.  There is just one design out there now.  Some of the things we need to look at are procurement, design and speed.  Timescales are very important.  How we pay for it is very important.  For obvious reasons, I want to do that as soon as I can."
24 May 2016
Further good news is that Valarie Shawcross has been appointed Deputy Mayor for Transport.  Valerie is a strong supporter of the bridge and was previously Chair of the Transport Committee
23 May 2016
ReForm architects and elliottwood did an impressive presentation of their proposed bridge (www.rotherhithebridge.london) at the Canada Water Consultative Forum which was very well received.  There was a lively Q&A session and it was clear there was 100% support and a huge amount of enthusiasm for the project.
The question whether it would be acceptable for a bridge at that location to be tolled was met with universal rejection.  There can be no possibily that having waited so long for a bridge we should be penalised by having the only tolled bridge in London!
In the hustings for the election of a Councillor for the Surrey Quays ward at Southwark Council all candidates expressed strong support for the bridge.
19 May 2016  Southwark News
"Rotherhithe Sustrans bike bridge plan gathers pace after Neil Coyle meets charity"
"MP Neil Coyle met with the charity Sustrans on Thursday May 12 to discuss how plans for the bridge could be moved forward. The proposed £88m project would see a pedestrian and bike bridge built by 2020 and slash commutes by twenty minutes.

MP Neil said: "With a new Mayor [Sadiq Khan], his sole focus on London and his new energy for the role, I hope to see the commitment to the Rotherhithe bridge delivered."
Rotherhithe Sustrans bike bridge plan gathers pace after Neil Coyle meets charity
13 May 2016
We are delighted to note that Caroline Pidgeon is elected Chair of the London Assembly Transport Committee.  This is especially good news for our campaign because Caroline is noted for her high level of diligence and committment,  and is one of the most significant and enthusiasic supporters of the bridge.
13 May 2016
TFL releases document "Delivering Your Manifesto" – includes the bridge in the Mayors plans for the next four years:
news.bbc.co.uk/1/shared/bsp/hi/pdfs/13_05_16_delivering_the_mayors_manifesto.pdf
6 May 2016
We are delighted to see Sadiq Khan elected as Mayor of London.  Sadiq's campaign included specific pledges supporting the bridge and we are optimistic that this brings the project a lot nearer to reality.
24 March 2016 Southwark News
"Rotherhithe to Canary Wharf bridge proposal could slash commutes by 20 minutes"
The number of journeys saved by the use of the bridge is estimated at around fifteen full tube trains or 150 buses a day,
Quoting from the Sustrans Feasilility Study
Rotherhithe to Canary Wharf bridge proposal could slash commutes by 20 minutes
21 March 2016
Cycle bridge to Canary Wharf could empty 15 Tube trains – "The Wharf" Newspaper
"A new cycle bridge between Canada Water and Canary Wharf could empty 15 Tube trains of passengers and slash journey times across the river, according to a feasibility study.

Unlike the Garden Bridge, a link between Rotherhithe and the Isle of Dogs has found favour with politicians of all hues and Chancellor George Osborne highlights the scheme in his National Infrastructure Plan in 2014.

The study said a bridge would see 10,200 cycle journeys and 3,000 walking journeys a day – the equivalent to 160 full buses of passengers."
http://www.wharf.co.uk/news/local-news/cycle-bridge-canary-wharf-could-11070220
March 2016
Sadiq Khan makes this manifesto pledge:
"I will… Work to break down some of the city's physical barriers, such as by backing the Rotherhithe-Canary Wharf cycle and pedestrian bridge"
March 2016
The Sustrans Feasibility Study is released.  For more information click here
November 2015
New TFL publications referring to the proposed bridge:
"The potential for a new connection to link two major growth areas has been identified between Rotherhithe and Canary Wharf.

Rotherhithe is expecting significant housing growth, with over 4,000 new homes planned for Canada Water. Canary Wharf is one of London's key employment sites, where over 100,000 new jobs are expected by 2036.
The Jubilee line, currently the only link between these key growth areas, is close to capacity.
Providing a new direct pedestrian and cycle crossing between these growing residential and employment areas would encourage more people living in south London to walk and cycle to Canary Wharf, potentially reducing the number of passengers using the busy Jubilee line"
Document: Connecting the capital
27 October 2015 – Boris Johnson on #askboris
"still in negotiations but we love the scheme"
18 June 15 Sustrans Press Release
See the press release for more details
Sustrans is moving ahead with advance feasibility plans to build a fully accessible, 24 hour bridge for walkers and cyclists across the River Thames between Canary Wharf and Rotherhithe. Transport for London (TfL) has granted funding of £170,000, matched with £30,000 from businesses in the area, for Sustrans to investigate the potential of the new bridge, and their detailed feasibility work is due to be completed in August 2015 [Editors note:  this is now expected in November or December].
Richard de Cani, TfL's Managing Director for Planning said:
"As London's population grows towards 10 million people, we need a number of new river crossings to improve connectivity and reduce congestion on existing road and rail services.  A new pedestrian and cycle crossing between the Isle of Dogs and Rotherhithe and Canada Water would encourage more people to walk and cycle to Canary Wharf, improving access to amenities and jobs and providing an alternative to the Jubilee line for shorter trips.  TfL is working with Sustrans and the private sector on developing this proposal by pledging funding towards the first phase of feasibility work."
Isabel Dedring, Deputy Mayor for Transport said:
"More than a third of London's expected population growth is expected to happen in East London and we urgently need more crossings – for all types of transport users. So we are delighted to be able to offer this funding to help progress Sustrans' proposed cycling and walking bridge.
---
18 June 15 Daily Telegraph
In this article,  German Dector-Vega (Director of Sustrans London) announced that Transport for London and local business have joined together to grant Sustrans £200,000 to investigate the potential for a new bridge.
The work is due to complete this summer.
---
3 Jun 15 London Assembly
(Debating the Garden Bridge,  but with references to the Brunel Bridge – highlighted in red)
The London Assembly today voted against the Mayor's current plans for the Garden Bridge by 11 votes to 3 and called on the Mayor to carry out a full audit of the project's procurement, and to remove Transport for London (TfL) funding for a project which "serves no transport function"
Significantly, the motion was proposed and seconded by both the Chair and Deputy chair of the Transport Committee,  who both went on to suggest that the Brunel Bridge would be a better option
Caroline Pidgeon MBE AM (Deputy Chair of the London Assembly's Transport Committee), who proposed the motion, said:
".. and furthermore we should actually withdraw the TFL funding for this project because in is not a transport project and the money should be spent on other projects and other bridges in London such as the Brunel Bridge idea from Rotherhithe to Canary wharf which would have cyclists and pedestrians and has a much better cost:benefit ratio but also has a much greater need and will cost a darn sight less than £175M [estimated cost of the Garden Bridge]…"
Valerie Shawcross CBE AM (Chair of the London Assembly's Transport Committee), who seconded the motion, said:
… The suggestion of Rotherhithe is a very good one,  because there is a genuine public demand for a pedestrian cycling crossing in that area…
5 Feb 15 – Southwark News
"View from Westminster" by Simon Hughes MP:
"… I have also persuaded government to take seriously the proposal for a new pedestrian and cycle bridge – the Brunel Bridge – between Rotherhithe and Canary Wharf. For the growing number of cyclists and pedestrians, this will shorten and improve the journey between north and south bank, downstream of Tower Bridge …"
17 Dec 14 – Sustrans – "Talks underway for new Thames Cycle Bridge "
Quoting from http://www.sustrans.org.uk/news/talks-underway-new-thames-cycle-bridge
Sustrans is currently working to plan and build a new walking and cycling bridge spanning the River Thames between Rotherhithe and Canary Wharf.

The bridge would be an important transport link across the river – serving residents in Rotherhithe and beyond to their places of work in Canary Wharf, as well as providing a direct route to Stratford and the Olympic Park.

It is hoped that a new design competition will be launched in 2015 in partnership with local MP, Simon Hughes, a longstanding champion of the concept, and other key stakeholders.
Dec 14 – HM Treasury "National Infrastructure Plan 2014"
"An interesting proposal made by Sustrans, and worth looking at in more detail, would be a new pedestrian and cycle bridge from Rotherhithe to Canary Wharf – which could be called the Brunel Bridge in tribute to one of the great figures in the history of UK infrastructure"
Dec 14 – British Land proposals "Canada Water Masterplan"
Quote from http://canadawatermasterplan.com/wp-content/uploads/2014/03/2158-Canada-water-masterplan-Exhibition.pdf
"British Land are aware of a range of other aspirations for transport upgrades being discussed in the area and will work with the promoters of these as more detail comes forward. Some of these include: Sustran's aspirations for a cycle and pedestrian bridge from Rotherhithe to Canary Wharf"
18 Nov 14 – Southwark Council Cabinet
Quoted from http://www.se16.com/2630-canada-water-regeneration-at-southwark-cabinet
Councillor Mark Williams, Cabinet Member for Regeneration, Planning and Transport stated [best efforts transcription from a recording]:
"we support the potential pedestrian and cycling bridge between Canary Wharf and the Rotherhithe peninsula and indeed to connect to sustainable transport to the west of the borough"
30 Oct 14 – Southwark News
"A bridge named after the pioneering father and son engineers Marc and Isambard Brunel could be built across the Thames in just four years

Simon Hughes MP and the charity Sustrans are launching an architectural competition to find a design for the bridge

Mr Hughes said "I strongly believe this bridge is one of the best ways in south-east and east London to ease congestion, promote regeneration, encourage environmentally friendly travel and accommodate London's increasing population"
22 Oct 14 – Mayor's Question Time
"Caroline Pidgeon MBE AM:   [What I am really trying to get your] support for, Mr Mayor, if you will allow me to finish questioning, is that Sustrans is planning to launch a new competition to design this bridge, which it has worked on for some time, from Rotherhithe to Canary Wharf.  They are calling it the Brunel Bridge.  It would really increase cycling and provide a river crossing where it really is needed and it would potentially help relieve overcrowding on the Jubilee line.  Will you consider supporting this project?

Boris Johnson (Mayor of London):  Please tell them to come in as soon as possible and we will have a look at it.

Caroline Pidgeon MBE AM:  You will have a look at it?

Boris Johnson (Mayor of London):  I am always interested in that type of scheme.  I do agree there should be a crossing in that area.  Let us see what they are proposing."